Authentic Japanese Cuisine with Patio-view
Located across the garden courtyard from the hotel's main building, Yukuri takes its name from an ancient Japanese word that means "to achieve rapport."
Here you can experience authentic Japanese cuisine "Kaiseki" in a setting that is at once modern and traditionally Japanese.
Whether you enjoy your meal with a sweeping view of the garden courtyard, or in the intimacy of Yukuri's private dining room, it will be a culinary experience you are sure to treasure.
Operating Hours
◆ Breakfast 07:00 - 10:00 (L.O) ※ Open on weekends and holidays only.
◆ Lunch 11:30 - 14:00 (L.O)
◆ Dinner 17:30 - 21:00 (L.O)
◆ Drink 22:00 (L.O)
Closes at 22:30, open year-round
※ Restaurant is closed on Sunday evenings (on 3-day weekends and long holidays, closed on the evening of the last day)
Number of Seats and Room
Main Dining Area: maximum 30
1 Private Room with 6 Seats

※ All area is non-smoking.
Dinner -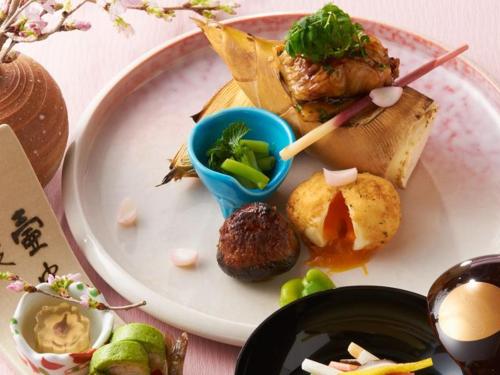 Experience traditionally prepared Japanese cuisine served in different seasonal style.

◆ Niwa Kaiseki ¥15,000
Chef's special Kaiseki Course with special ingredients
◆ Yukuri Kaiseki ¥11,000
An authentic Kaiseki Dinner Course of the month
◆ Nagomi Kaiseki ¥8,000
Kaiseki Dinner Course of the month

* Quoted prices include tax and 10% service charges
- Lunch
Have a pleasant lunch hour with the tranquil garden courtyard view.

◆ Lunch's Kaiseki Course ¥6,000
◆ Kaiseki Set Lunch ¥4,000
◆ Bento Box Lunch ¥3,000
* Quoted prices include tax and 10% service charges
Breakfast -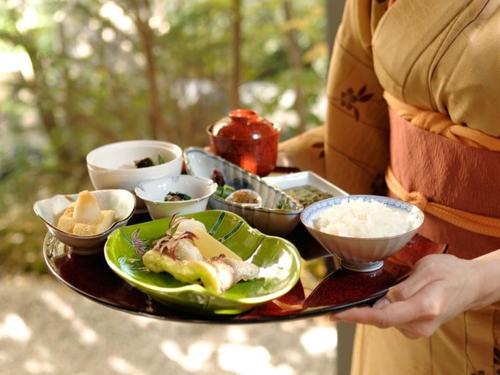 Start your day with healthy, delicious premium Japanese breakfast.

◆ Japanese Breakfast ¥2,500
Japanese style breakfast served at the table
* Quoted prices include tax and 10% service charges