French-inspired Dishes at All-day Dining
The Grill & Bar Lieu takes its name from the French word for "place", which – in a linguistic coincidence that resonates with the sound of the stream in the hotel's inner courtyard – is phonetically identical to the Japanese word for "flow".
With an impressive wine cellar and a wide selection of French inspired dishes made from seasonal vegetables, it offers a dining experience that is sure to delight.
Operating Hours
◆ Breakfast 06:30 - 09:30 (L.O)
◆ Lunch 11:30 - 14:00 (L.O)
◆ Teatime 14:00 - 17:30
◆ Dinner 17:30 - 21:30 (L.O)
◆ Bar 22:30 (L.O)
Closes at 23:00, open year-round
Number of Seats and Room
Seating Capacity 70 / Private Room Capacity 20
※ All area is non-smoking.
Dinner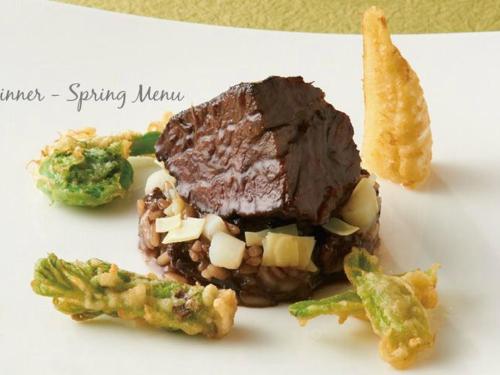 Grill & Bar LIEU presents high-quality dinner made with the best seasonal ingredients every year.

◆ Dinner Course Niwa ¥8,000
Appetizer, Soup, Fish, Meat,
Dessert, Coffee or Tea

... and many more available.
* Quoted prices are all tax and 10% service charge inclusive.
Lunch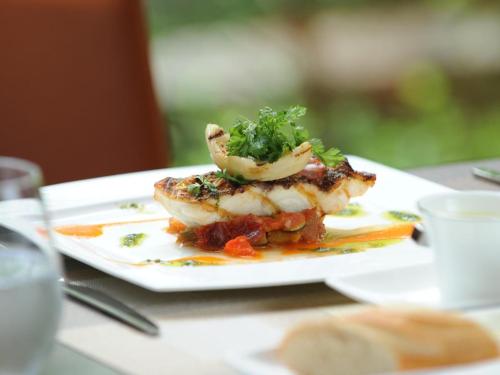 Enjoy our delicious lunch in casual atmosphere with wide selection of salad bar.

~ Weekday Lunch with Fresh Salad Bar ~
◆ Quiche / Pasta Lunch ¥1,980
◆ Seafood or Meat Dish ¥1,980
◆ Risotto Lunch ¥1,980 (made with 24 months matured Parmigiano-Reggiano)
◆ Beef Steak Lunch ¥3,900

... any many more available.
* Served with petit soup, bread, coffee/tea
* Quoted prices are all tax and 10% service charge inclusive.
Tea Time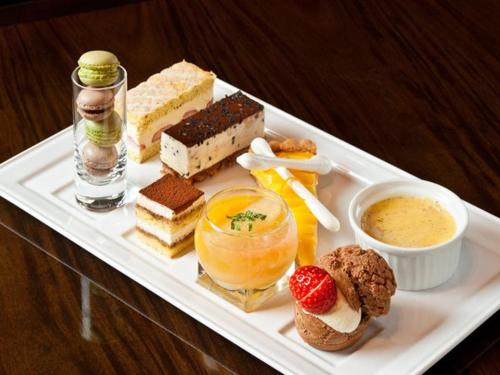 A perfect place for cup of authentic Japanese tea or coffee in a relaxing mood.

◆ Monthly Sweets ¥1,030~
◆ Japanese Tea Selections from Kyoto "Ippodo"
◆ Coffees
◆ Light Meals

... and many more
Breakfast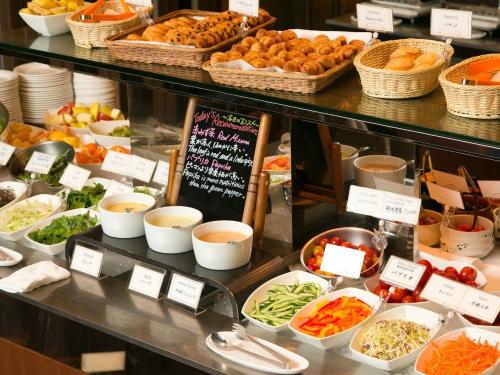 Western buffet style breakfast served daily.

◆ Breakfast Buffet ¥2,500

Salad bar which you can enjoy natural taste and texture of vegetables.
Eggs are served just the way you like them.
Freshly-baked baguette, crescent rolls and pastries are served daily.
Japanese breakfast accompanied with rice is also available.